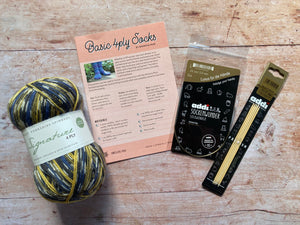 We've always wanted to offer a beginners sock kit - but have been puzzled as to how to go about it given the different methods and needles of choice! HOWEVER - we decided that wasn't going to stand in our way and have worked out a flexible kit! With options to tailor it for your requirements! 
1 - Choose your yarn!
Now there are so many shades of WYS Signature 4 ply - to let us know which shade you'd like, click through here and just pop the shade name in the comments when you check out and we will do the rest!
2 - Choose your needles!
Kit 1 - Addi Sock Wonders are a small circular needle with metal tips - 25cm from tip to tip - one needle is longer than the other and you use that in your working hand. It's possible to knit a pair of socks with this alone.
Kit 2 -  Addi Bamboo DPN's (double pointed needles) 2.5mm 6" - you can knit the whole sock with these.
Kit 3 - This combination would be my preference, using the Addi circular and DPNs (double pointed needles) at the heel. 
We're using our favourite Winwick Mum (Christine Perry) Basic 4 ply sock pattern as we followed it for our first socks and it's always a top recommendation in the shop. This is still a free pattern available via Winwick Mum's blog - but with Christine's permission we've printed them on a handy sized card so you can carry your kit wherever you go! **The price of the kit covers the needles and yarn - you are not being charged for the pattern.**
Add a Winwick Mum Seasons pattern book with 4 patterns for more adventurous sock knitters -  with the shades Christine designed in collaboration with WYS! 
You'll also get a Northern Yarn brown paper bag to keep your kit in - or give as a gift.