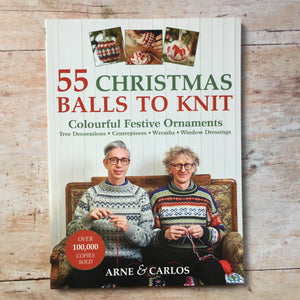 55 unique hand-knit Christmas ornaments inspired by traditional Norwegian patterns.
It really doesn't take long for Arne & Carlos to put the whoa into Christmas woollens. - Kirstie Allsopp
Who doesn't love Christmas balls? They are colourful and festive and bring joy to many - whether you are making them or using them to decorate your home. Norwegian knitwear design stars Arne and Carlos bring fun-filled festive crafting to knitters everywhere with their fabulous ornamental balls. They are easy to knit, easy to stuff and once you get knitting you won't want to stop. Inspired by traditional Norwegian patterns each ball is a unique handmade creation ready to become a holiday heirloom. They are ideal for the tree, wreaths, mantelpiece, table decorations and window dressings, and make perfect gifts for friends and family.
This book is bursting with creativity and inspiration, with just one set of instructions for making the balls and 55 unique patterns. Each pattern can easily be adapted for hats, mittens or even sweaters by the extra creative knitter.

Featured on Kirstie's Handmade Christmas on Channel 4.