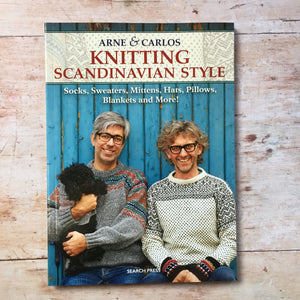 Arne & Carlos derived the inspiration for this book from numerous Setesdal patterns. Many were found in the attics of old houses, in books, on postcards, and from old knitting patterns. In their newest book, Knitting Scandinavian Style, you will find 33 patterns for gorgeous sweaters in bright colours, to suit both men and women. Ideas for accessories such as mittens, hats, wrist warmers, stockings, small and large pillows, teddy bears and much more. The levels of difficulty vary from completely easy patterns to those for more experienced knitters.
Through experience gained from working alongside Scandinavia's most respected knitters, many of whom still use centuries-old techniques, Arne & Carlos seek to preserve tradition while creating pieces that are fresh and modern. The 33 patterns in this book have been inspired by Setesdal's cultural heritage but were designed with a little twist.
Arne & Carlos go out of their way to share their imagination and inspiration, once again providing unique and diverse ideas for handmade designs in their characteristic style that honours traditional Scandinavian knitwear
The popular designers have published five books, starting in 2010 and they are available in 14 languages
Arne & Carlos are popular wherever their books are published and wherever the authors travel for book signings or workshops. In 2013 they have been to England, Northern Ireland, Finland, Denmark, Sweden, Belgium, the Netherlands, Japan and the USA.