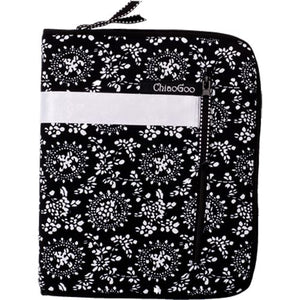 Slightly larger than the Chiaogoo Interchangeable Case, this Circular Case is a quality book-style, cotton fabric case with white ribbon detail. It is complete enclosed with a zipper on three sides.
Inside are 16 labelled pockets to hold your circulars and there is a zipped pocket on the outside to store your notions.
If your Circulars are making a bid for freedom, then this is the perfect case to keep them in order.
Closed case dimensions are 23cm x 18cm