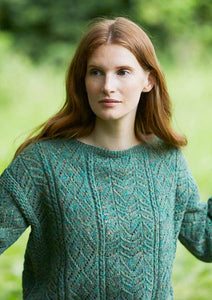 Kit is a yarn bundle only - you can buy the individual pattern from Ravelry here:
Sizes S-M, L-XL, XXL
To fit bust:
81-97, 102-117, 122-127 cm
32-38, 40-46, 48-50 in
Jamieson's of Shetland Spindrift
12, 15, 17 x 25 gm
(photographed in Moorgrass 286)
Please note there is an errata for the pattern in the printed book. The chart for the sleeve is missing.
The individual PDF pattern is correct.