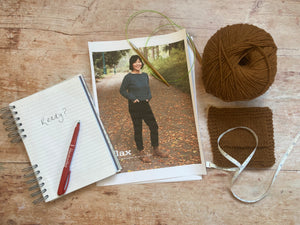 Saturday 12th & 19th November 10-12pm
Saturday 3rd & 10th December 10-12pm
 When I realised I could knit a sweater or cardigan seamlessly, being able to try it on to check the fit and with no sewing up afterwards, it opened up a new world of garment making possibilities! I see people come in and look worried if a pattern is in the round - but once you've tried, you'll never look back! You can do it.
In this class Ruth & Kate (keen and experienced knitting enthusiasts!) will take you through the steps of making your first sweater, top down, in the round. We will have some homework for you to do before the class, and talk you through swatching and finding the right size for you to make. We will be making Flax by Tin Can Knits, designed as a simple but classic garment, with excellent instructions and we have kind permission to use this pattern for our class.
We will have four, two hour sessions - with a two week gap in the middle for you to knuckle down and knit, knit, knit! You will need to know how to knit and purl already, we'd say this is an advanced beginners class. We will cover the following:
Measuring yourself correctly
Pattern reading
Making gauge and swatching
Stretchy cast ons
Joining in the round
Short row shaping
Dividing sleeves and body
Different cast off methods
Blocking and finishing
The course will be a total of 8 hours tuition with wrap around support! Materials are not included but you will have 10% discount to use on yarn and needles for your project - we will help you with these decisions once your space has been booked. Classes will be kept small so you will get lots of one to one support. By the end of the class we will try and make sure you're confident with the techniques learnt and ready for your next in the round project! 
**Unfortunately we can't offer a refund unless we can fill the space - which we will try and do given enough time, but not guaranteed **