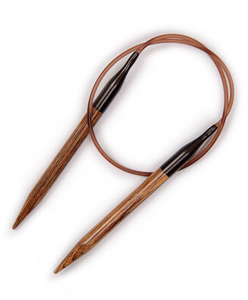 If you can't find the size you're looking for click through here for our Hiya Hiya Bamboo Set Circular needles** or here for our ChiaoGoo range **
A splendid collection of wooden, tinted knitting pins, made from the same, much-loved laminated wood, used for Symfonie. Perfectly tapered points, can pick up any stitch with ease. Lightweight, strong & durable pins. Smooth join ensures easy stitch gliding and no snagging. Resilient, flexible cords lay flat with no kink or twist, Provides hours of pleasurable knitting with no hand fatigue, warm to the touch, and gentle in the hand.
All ginger needles are made from FSC certified wood, sourced from well managed European forests.