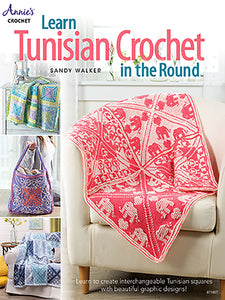 Learn Tunisian Crochet in the Round by Sandy Walker
This amazing book is filled with step-by-step photos and instructions to create stitch square blocks with beautiful graphic designs!
The basic differences between regular Tunisian and Tunisian in the Round (TITR) are that the stitches are picked up on the forward pass and worked off on the return pass differently. The book includes an '11-Step Photo Tutorial' for TITR, and sections that explain how to read stitch charts for TITR, plus a section outlining tools, Tunisian stitches, and techniques for TITR. 15 different stitch blocks have the same number of rounds used so blankets can be easily made larger or smaller by altering the number of blocks. Blocks include Fair Isle, Elephants, Hearts and more. Includes instructions on how to make two afghans, two baby blankets and two tote bags.