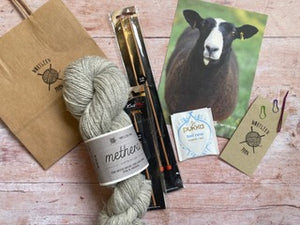 I always think of September and October as the start of a new year, there's so much change; the season and definitely the air of excitement, nerves and possibilities while children and young adults take leaps into new classes, new schools, colleges and universities!  And conkers. Always the conkers!
For students, knitting or crochet can provide the perfect opportunity to relax, keeping hands and minds busy and actually making something to keep warm! We've put together a little starter pack, for either knitting or crochet, with our traceable, local yarn, wooden needles, printed instruction booklet from the UK Hand Knitting Association, a marker, darning needle, social night info with pattern and of course - a tea bag! 
Whether you're a student or know one that might appreciate a little crafty gift - these kits will fit the bill.