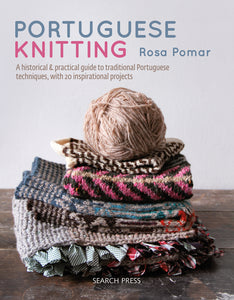 More than just a history book or a handicraft manual,
Portuguese Knitting
is a journey into Portugal's knitting heritage. Traditional patterns and techniques are brought up to date in the form of beautiful modern pieces such as socks, hats, shawls, cowls, pot holders and leggings.
Portuguese knitting differs from regular knitting in the way the wool is held; it can either be passed through a special Portuguese knitting pin attached to the knitter's clothes, or looped around the neck and then over a finger.
Easy-to-follow instructions and clear illustrations allow beginners or more experienced knitters to recreate historical pieces in an original, contemporary way. You can make the projects as they are shown, or use other colours to create your own unique and original gifts.