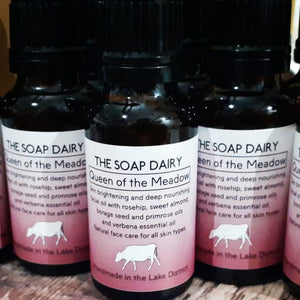 'Handmade on our Lake District Farm. Inspired by the local culture and ecology, the changing seasons and our work in conservation farming.'
Maria: 
A wonderfully nourishing facial oil for glowing skin. I love using this, and I might be biased but I'm sure my skin looks so much better these days! It looks bright, nourished with a more even skin tone. The oil is a lovely blend of  sweet almond oil, glycerin, rosehip oil, primrose oil, borage seed oil and verbena essential oil. Simple, natural ingredients that your skin will love.
The oil comes in a small, brown glass bottle to protect the longevity of the oil and the dropper means you won't use too much at a time. Just put a drop or two onto a clean hand before gently applying to your face, avoiding your eyes.
For external use only. If irritation occurs discontinue use. 
Net c.18g  
INGREDIENTS: Prunus amygdalus dulcis oil, Glycerin, Rosa canina fruit oil, Borago officinalis seed oil, Oenothera biennis oil, Thymus hiemalis oil, Citral, Limonene, Geraniol, Linalool, Citronello.