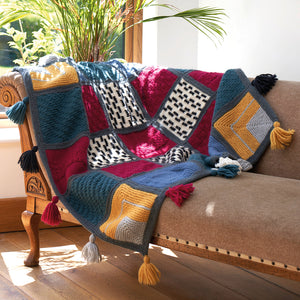 Mindful Knitting and calming stitches by Lynne Rowe
Mindful knitting combines rhythmic knitting with mindfulness techniques; consciously connecting you with the present moment.
Simple stitch patterns allow you to focus on the colours, sensations and rhythm of the repetitive stitches. As they become more familiar, they'll help to move you into a meditative state; you'll slow down and unwind as your body reacts by releasing chemicals which calm and sooth.
As you create, your knitting will become more enjoyable and the relaxing cycle begins. Each stitched square is specifically designed to help improve your wellbeing and take a break from any negative and stressful thoughts.
West Yorkshire Spinners
Re:treat Chunky Roving
Soul 105 - 3 x 100g
Mellow 221 - 1 x 100g
Harmony 184 - 1 x 100g
Ponder 393 - 2 x 100g
Joy 151 - 1 x 100g
Adore 552 - 2 x 100g
Pure 010 - 1 x 100g
Reflect 099 - 1 x 100g